We fished for the Cubera's again this past Sunday night, finally getting Paul Storti and his friends, Luis, Brendon and Mike out after several weather cancellations. Everything went well on the lobster patches and Devon quickly collected our 12 bugs needed for the night. We made our way to the Yellowtail area and found that there was no current and the chum was slowly dropping straight down off the transom. We did manage to wrangle a few legal Yellowtail though. As darkness fell over us, we pulled the hook and made our way out to El Nastyville!
As we approached the area I began searching for the big Snappas! Oh yeah! They're still here! I located a nice school of them and one of Devon's good friends came out to meet us. We were the only 2 boats out there. He shadowed us the entire night and we fished within shouting distance of each other all evening. It's cool. There is no secret as to the general area that we fish. Besides, he tossed me a pack of smokes, since I had left mine at the dock. Thanks again, Smitty!
No current, only a wind drift, so I set up a drift track and we dropped a pair of bugs. Our first drift was off by a considerable distance. No bites and only a few fish being marked on the bottom machine, so we curtailed this drift and I headed back to the start point and readjusted. We dropped the bugs again and we were on the money this time. "I'm marking fish, get ready!" I told Paul and Luis, the first anglers on the rods. Whoop, There it is! Luis' rod doubles over and we are on. I never get tired of the bewildered look these anglers have as they feel the raw power of El Nasty. Luis worked hard and brought the fish up, Devon did his signature gill grab and put the fish on the deck. The 45 pounds of Cubera Snapper landed with a resounding thud and the 4 guys were excited and exchanging high fives.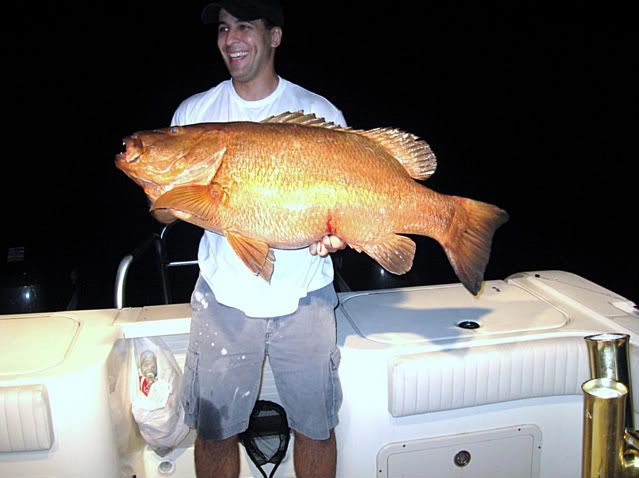 With the cockpit buzzing in amazement, we pulled the other line and motored up for another drop. Paul and Mike are on the rods as we dropped another pair of lobster. We noticed Paul's rod twitch and BAM. Game on! Within seconds Mikes rod doubles over as well. DOUBLE! Not for long though, as Mike's fish comes unpinned. Paul gets his fish to the gunnel and we pull it aboard for a photo op. A beautiful 20 pound specimen that we quickly released and with a few kicks of his tail, he was gone.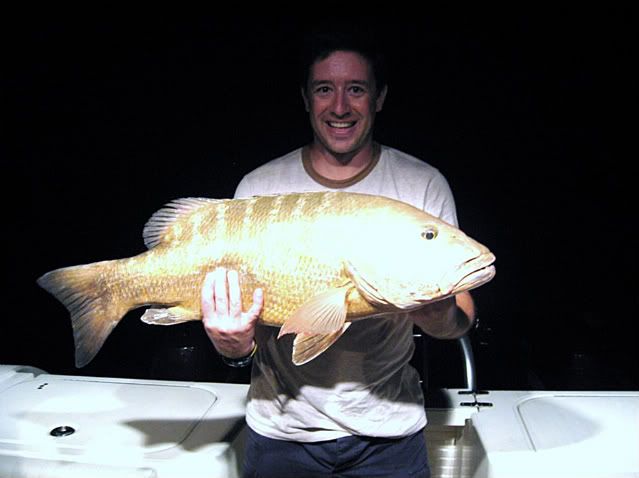 2 for 3 bites and we are on a roll. Well, not really. The next several drifts and Brendon and Mike are on the rods. They are snake bit. Mike must have had some bad JuJu on him this night. He went through 5 or 6 baits, getting bites and losing fish. Meanwhile, we are working a speed jig and Paul hooks up a 15# Horse Eye Jack. Got to love it! It's fishing right?
Once again, Mikey has a miss. Mike was getting really frustrated now. We dropped the partially crushed lobster down again and Bada bing, Mikey gets hooked up. This fish is on solid. His enthusiasm and determination kicks in and makes him oblivious to the fact that he has pulled the rod from the rod holder and stuck the butt under the handrail. He thinks this fish is a monster because he can't lift the rod tip. I saw what was happening and tried to help him. He wouldn't relinquish the pressure to ease the rod out but rather pryed the rod butt out, along with 2 grooves of the gel coat. I thought he was going to bend the dang aluminum butt. Oh well, the fish is still there and Mikey finally wipes the bad JuJu off of himself as a small fish comes aboard. A 16# fish, the smallest we've caught this season, but for Mike, it was a trophy Cubera. Sort of!
Brendon' luck wasn't much better than Mike's. He was having trouble too. For some reason his baits had been ignored all this time. Not a bite, not even a tap. Finally, he makes the grade and gets hooked up on a fish and completes the task. Thud… a 30 pounder hits the deck.
We missed a few more fish as we ran out of Lobster bait. Smitty called us to let us know he was bagging it for the night and relayed that the stats for him were Cubera 3 - Smitty 0. WOW! We fished a couple more drifts with some finfish baits but the Nasty's didn't want to play the game, with these inferior baits. Selective feeding for sure. We packed it in with our 2 fish/boat limit and headed for the barn. 12 lobster baits scored 13 bites, so our tally was 4 for 13. Once again, we lost 2 massive fish that we just couldn't stop. I don't believe we are fishing anything that was decidedly different than Smitty was doing that night, but our results were definitely better. Hmmmm?!?…Unless it was that extra gallon of MoJo we put in the bottom paint on The BEAST.
Capt. Jim
The BEAST
305-233-9996
beastcharters@aol.com
www.beastcharters.com