We had to cancel our first trip since fishing out of a World Cat. Around the middle of the month we had a Sunday charter and it had been blowing for a few days. I had a bad feeling and a restless night, so I finally crawled out of bed at 4 AM and turned on the PC to check current observations at our closest light house stations. OMG! Winds were blowing from the North at 30 with gust to 33 knots and the ambient temperature was 32 degrees. That equated to a wind chill factor of 22 degrees. At 5:15 the 5 AM readings came in and I saw 32 knots gusting to 36 with seas predicted to be 10 feet. I had to make a major decision since my people were from out of town. I called Todd's cell phone and regretfully canceled the trip for everyone's safety. It blew hard the rest of the day and was spitefully cold for Miami. All were thankful we weren't out there! It has been a good blow ever since with only a few days of lighter winds mixed in.
My good customer Jon called on the 20th and set up for a mental health day on Monday the 25th. Sure enough, the winds started howling again as he hung up the phone. Wonderful, not again! The economy is bad enough without "Mother Nature" throwing a monkey wrench into the works. The night before the trip I was up most of the night checking Fowey Rocks conditions. At 5 AM we were looking at S winds @ 22-25 knot, so it was definitely fishable on The BEAST. Jon and his friend John (easy to remember their names) are good seafarers so it wasn't going to be a problem.
We all arrived at the dock and unleashed The BEAST at 7 AM. A frontal system was to pass through that afternoon. I don't like fishing pre frontal conditions, but as Jon said, we'll take whatever is given us and deal with it. The good thing will be the rougher sea conditions, although from the South, might have the Sails stirred up. We made a stop at our Hardtail spot and collected some big 1-1 ½ # Runners. We blasted out for some Ballyhoo and were pleasantly surprised by the seas which weren't too bad/ The patch reefs, however, looked like pea soup. Well isn't this a daisy? We hit 4 different patches spending 15 minutes each and only collected one suicidal 'hoo. As we ran between patches we could see them scurrying away from the boat but every time we stopped they disappeared. I finally found some clearer water on a deep patch in 40' and had the Bally's coming slowly. We managed to catch 2 more before the Terns moved in and the worms ski-daddled. Too much time is being spent on this now. Jon agreed to go with what we got.
As we readied to leave the patch, Jon notices a fish swimming by. Look at that fish, I think it's a Cuda! Devon quickly made that side of the boat and yelled, "That isn't a Cuda, that's a Sail!!! As he grabbed a spinner and one of our 3 ballyhoo, I kept an eye on the fish. He asked me which way to cast and I pointed to where the fish started to sound. Perfect cast and the fish rose, circled the worm and took a few swipes at it with his bill. Devon handed John, not Jon, the rod and told him to wait until he eats it. The bait disappears and John comes tight. Fish on! Just like in the Sailfish 101 text books. The fish was lackadaisical and acted like it hadn't a clue that he was hooked. It lacked that urgency you see when they are trying to throw the hook. As John quickly worked the fish to the boat we realized why. It was bill wrapped. No… Wait! The line was tied around the bill and the hook was just dangling. Devon got the leader for the catch and with little effort it slid off the tip of his bill. Upon further inspection the leader was tied in a simple overhand knot. Well, there ya go! That good ole granny knot held! Too funny!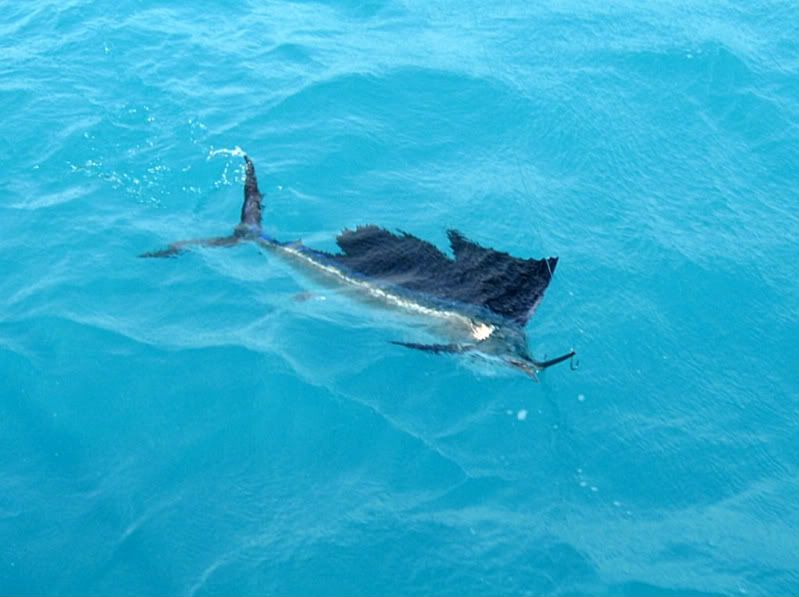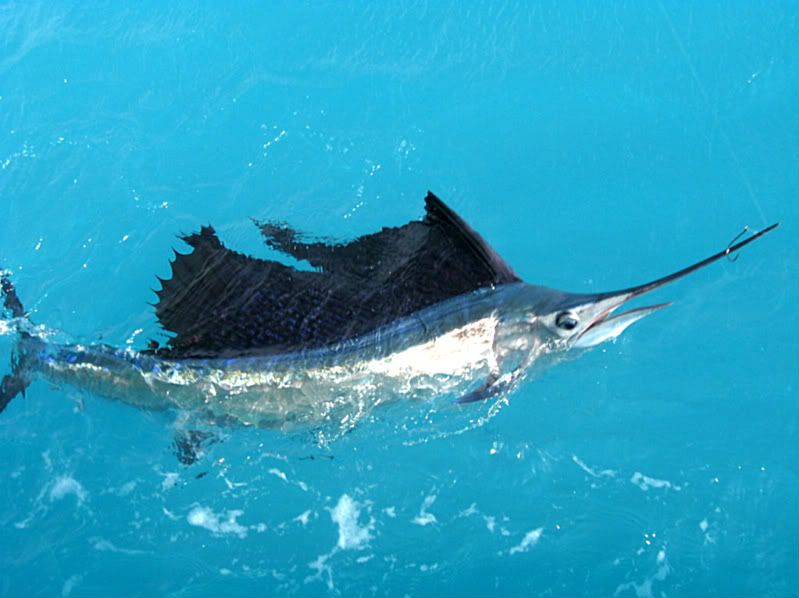 The day was starting out horrible and yet we are 1 for 1 and just pulling away from the bait patch! We backed out of there and headed deeper. Solid 3 to 4 foot seas greeted us with a few 5 to 6 foot swells as guests of honor. The seas were turbid at best, a turquoise green color as far as I could see. The wind is smoking out of the South and there is no current. The next fish ate one of the jumbo Hardtails down deep. Jon worked the fish to the surface and from a distance we thought we might have a Cobia but it turned out to be a small Silky shark. Devon put the grip on it and quickly unhooked him to return to his business. The fishing was slow and we were the only boat as far as I could see. I decided to skirt around a wreck area where we frequently catch Sails on just this type of day. Once again the down rod goes off and John is up. The tug of war lasted about 5 minutes or so and we see color. Dang, a decent winter AJ. That AngryJack weighed in at 29 pounds and worked him pretty hard on the light tackle. Devon made a successful release without venting. Pretty work!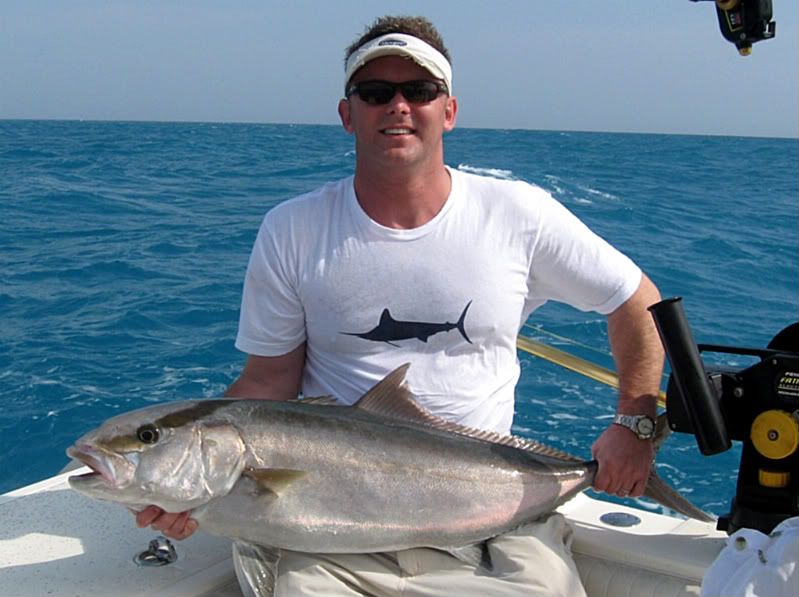 I scanned the seas relentlessly searching for some tailing fish and never saw a one. We caught and boated 2 big Barracuda. It seems that it is going to be a Caribbean Spotted Mackerel kind of afternoon as the front line got closer. You wouldn't think the fishing conditions could get much worse when at 2:30 the front line hits us and we are getting pounded by rain and strong winds clocking out of the WSW now. In full rain gear, we toughed it out with seas coming in from the South and rains from the West. The only thing that could make this day any worse would be lightning. NO… We were spared that, although we heard thunder off in the distance. Jon is proving once again that he is a die hard fisherman and his motto is "The best day to go fishing is whenever you can." As expected, nothing happened during the deluge. As the rains subsided and the sun began to show through we had yet another hook up on the down rod. You guessed it! Another Spotted Mackerel.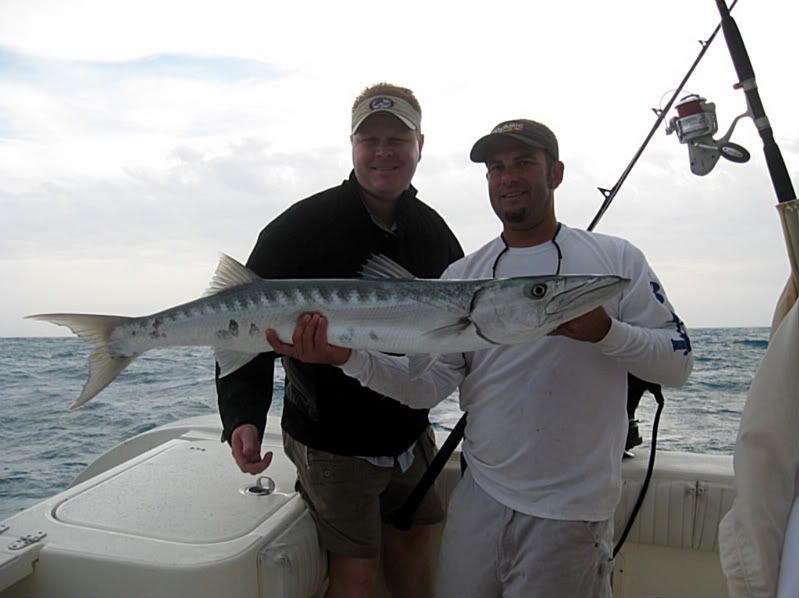 Jon was tired since his flight was delayed and he didn't arrive in town until 2:30 AM. With only 2 hours sleep, he pulled the plug on the trip. I pointed The BEAST toward the barn and throttled up. Although we had a really crappy day due to weather conditions, we managed to eek out 1 Sailfish, 1 Shark, 1 Amberjack and 3 Barracuda. We always seem to have a good time when we get together, regardless!
This was not the kind of report I wanted to write but I have to call 'em like I see 'em! I'm not one who only writes about the good days! If you're coming to Miami for the Pro Bowl, Super Bowl, or Miami International Boat Show, cut loose and take in a fishing trip while you're here.
Capt. Jim
The BEAST
305-233-9996
beastcharters@aol.com
www.beastcharters.com