It's been a while since my last report. It's not by choice but rather this economy that has us tied to the dock more often than we'd like. Adding to that downside, the weather has been brisk and several charters have cancelled. On the brighter side, the weather and the fishing are now turning more towards our spring season. Fortunately we managed to get out last Thursday and Friday, which makes Devon and I happy because fishing is our passion.
One of my best friends, Major Kevin "Hoss" White used to fish many tournaments with us back in the mid 90's. He moved from Miami when he left the National Guard to go active in the Army. He did 15 long months in Afghanistan and is now living in Iowa and teaching ROTC at the college. He called us last month to see if we could set up a trip for he and his oldest son, Garrett. Absolutely Hoss!
Hoss and Garrett met us at the dock at 7 AM and we turned The BEAST out. We spoke of old times as we idled out of the Marina. The years that have passed, simply melted away as we spoke of old times as if it were yesterday. As we entered the Bay I fed the 600 ponies and we were up and running to our first bait patch. WOW! Bay temps were only 64 degrees. We pushed through to the patch reefs and found them to be only 67 degrees. We arrived on our bait patch and the worms were sluggish. We managed to pick at the Ballyhoo with hook and line while Garrett was impressing us with his bait catching skills on the small Pig Grunts (Tomtate). Since we were on a time budget, I tossed the cast net and completed the process. We weren't loaded but we had plenty for the day.
I pushed the throttles down and we made the short run to the "edge" to find 71-72 degree water temps, light westerly winds, and trickle of south current. Not the best conditions. This offshore fishing was new to Garrett, so he was observing and asking questions about everything we did. Devon deployed our normal spread and within a few minutes we had a Kingfish on the down rod, then another.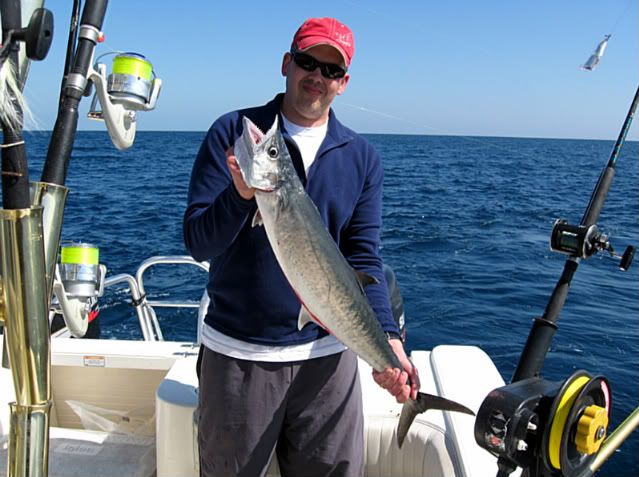 Then suddenly Devon yells "SAILFISH UP!" Garrett gets on the rod and Devon coaches him through the process. Hooked up! Garrett had his hands full as the fish jumped only twice then sounded to fight him down and dirty style. This went on for 15 minutes when the fish began to rise and suddenly the hook pulled. Dang it! Tough break for "Little Hoss"!
The downrigger was active for an hour or so and we caught and released several more Kingfish. The Kingfish shut off and we also missed a bite from a very small Mahi. SAILFISH UP on the short flat line! There's another one on the other flat line! Devon fed the first fish but it just played with the bait. The second fish was just shopping, not buying! Double Dang! A father and son double would have been awesome!
The winds died down to almost nothing and the current slowed even more. We picked up a hitchhiker and it was evident now that the surface bite was done.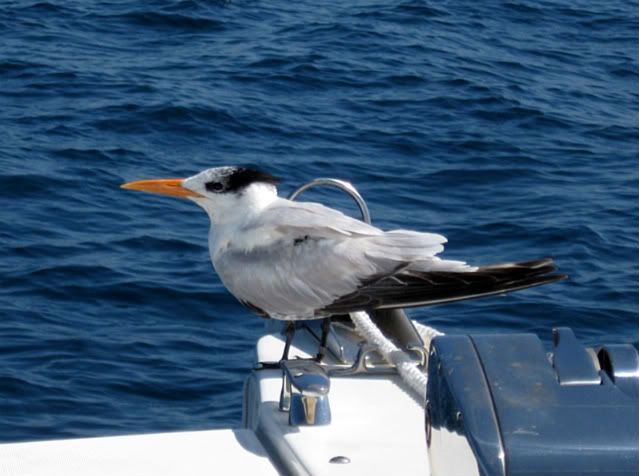 We pulled lines and moved off to some wrecks to put Garrett and Hoss on some big fish, and that we did. The first wreck was active for a short time but the fish kept breaking them off in the structure. Then the current went slack and so did the bite. We made a move to a deep wreck where there was a bit more current toward the north and it was forming a nice rip. Devon put a bait out on top while we dropped on the wreck. The speed jig tallied up Garrett's first Bonito.
On the next drift the surface bait got nervous and we missed a decent 15# Dolphin (Mahi). We put out another bait and it got eaten immediately by his little sister.
The next drift and Garrett is hooked up to one of our bruiser Amberjack when suddenly the line gets heavy and pulls back with twice the power. Did he lose him? No, there's still weight on the rod tip but no fight. Garret learns that it's hard to fight when your propeller is bitten of by a shark.
Hoss and Garrett had some fun working the wrecks and getting beat up by these stubborn Wreck Donkeys and their smaller cousins the Almaco Jacks.
The current and winds had died and we also ran out of time as Hoss and Garrett had to meet up with the rest of the family, later that afternoon. Garrett's first time offshore fishing netted him some Kingfish, Dolphin, AJ's, Almaco's, and almost a Sailfish. That was fun but it was even better to see my old buddy "Hoss" again!
Friday we met up with John Dancer and his troop. They were celebrating John's 70th birthday. We did the usual drill but this time the bait patch was not going to give up bait easily. Only doing a scheduled half day, we were in a hurry and the bait was not cooperating. The winds were a mere breath and the seas were flat as glass. Luckily we had wreck baits left over from yesterday as we could only manage to get 3 Ballyhoo. Well this will change the game plan. We went out to the edge and began by putting out all 3 of the Ballyhoo. About a half hour later I saw Richard on Good Life coming out and asked him how he did on bait. He had 7. Oh Boy! There was the slightest bit of a trickle of current towards the south and it didn't take long before we realized we could've had 0 baits and netted the same results. No current, no wind, and no fish activity. I looked forward and there sat another Tern on the bow pulpit, possibly the same banded bird from yesterday. I didn't waste much time beating this dead horse.
We pulled the lines and went to a wreck to try a jig tipped with some jumbo shrimp. Bam! A slow southward drift resulted in a bite and a break off in the wreck. The next drift, another bite, and the same results. The third drift and we are hooked up and the fish stays up in the water column long enough to get away from the wreck. 10 minutes pass and it appears that we may have this one. NOT! We no sooner thought it was a done deal when the hook simply pulls loose. Action but no catches, so far. The next couple of drifts were fruitless as the current went dead slack and the fish have lockjaw.
I made a move to the deep wreck again and found a 1 knot current and drift to the southeast. Not great but moving water of any kind is a key factor. Devon drops a live one down and then starts a speed jig. Boom! The jig gets nailed and this fish has some shoulders. Austin fights the fish and the fish is fighting Austin. It took a while but he managed to get it boat side and the fish weighed in at 42 pounds. Nice!
The wreck was active and each drift produced at least 1 bite. John asked if I could extend the trip to a ¾ day for them. Of course Devon and I said "Yes." We like to fish as much as you do. The very next drift produced a 28 lb fish for Kim.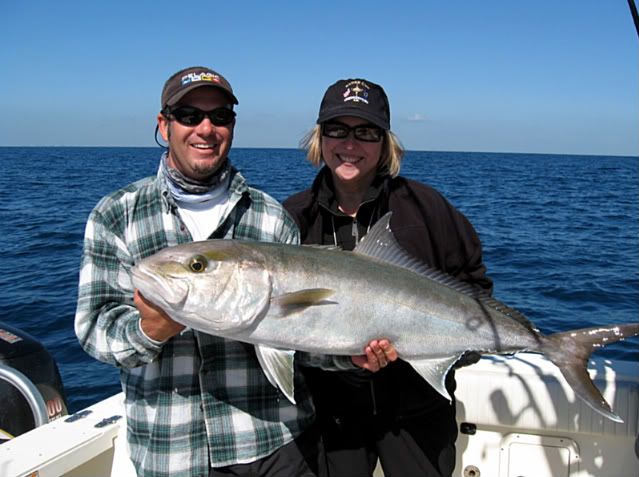 We continued on and they were having a ball. Everyone had several rounds on the rods. Live bait and speed jigs both doing their job with the speed jigs working best in the slower currents below. We finished up our day with Amberjack and Almy's from 5 pounds to 42 pounds with the last one pulling the scale down to 38 pounds.
Being from Michigan they don't catch fish like this. They had been on a lot of Party Boats and a few charters but never had much success at all. We had a lot of smiling faces as we headed The BEAST for the barn!
Capt. Jim
The BEAST
305-233-9996
beastcharters@aol.com
www.beastcharters.com