We've had fun on our last 2 trips. The Dolphin have been plentiful but the majority of the fish have been ½ - 1 inch short of legal size. In other words, plenty of "schoolies" to keep you busy but nothing much in the way of notoriety. When the ocean only gives up limes, The BEAST crew does its best to turn the day into a Mojito!
We took Brian Mitchell and his crew out to fish the 26th annual Dick Fuhr Memorial Dolphin Tournament. We picked them up at Homestead Marina and took off. We planned to run and gun along with some trolling on any debris or weed lines we might find. Well, the best laid plans do not always come together. We ran and trolled every flock of birds we found, picking up 19 inch "schoolies" with regularity. We didn't find any debris and only scattered weeds at best, covering almost 200 miles of ocean. We managed to catch 3 legal Dolphin, out of 15 or more that we caught. We were running away from them in hopes that the next flock of birds would yield a big fish. We even dropped 2 planer rods when deploying a spread and only ended up with 3 Barracuda. Yep, Barracuda in 1000'+ of water. The results at the end of the day showed 1st place - 21#… 2nd place - 13#... 3rd place - 10#. We took 6th place with a 4½ # fish. Since this heat wave descended on us, there have been plenty of fish around but nothing impressive.
Thursday we did a ½ day morning trip with Mike McCann, his wife, and twin 10yr old boys, Mike and Shane. We left the channel and made our way out to a Hardtail spot and collected up 8 baits for this quick trip. As we broke out of the islands we found the seas were comfortable at 1-2 feet. Our first goal was to try and get some Dolphin and/or Blackfins before the late morning sun began to heat up. We found a decent weed line in about 300' of water and within minutes of putting out a spread, we had a hookup on the right rigger. Little Mike took the rod and we ended up with a nice little 5½ # "schoolie"! We reset that line and worked our way up the weed line. The planer rod trips but we only get a weak click or two of the drag. A better Dolphin takes to the air and Shane throws a leg over the gunnel to "ride the pony" and crank. The little cow is a long and skinny fish weighing around 9 pounds. Hey… with all the little grasshoppers swimming around, we were very happy with this one.
Devon reset and we trolled north a bit then crossed over to go south. After 10 minutes I crossed back over to go north on the other side again. 15 minutes without a strike and I got the word that little Mike and Shane were bored. Wow! The Xbox/PS3 generation is so spoiled by the instant gratification of video games that they have no patience. This is no reflection on little Mike and Shane. This is not the first time we've had young boys complain of being bored if they aren't bailing fish one after another. Mike asked if we could go catch some little fish that would be more action for them. I suggested we do a wreck and at least they could get some bigger 'Cudas that would impress them while keeping them busy as well. So we put the Dolphin gear away and broke out the down rigger and live bait.
We went to our top action wreck and put down a live Runner! While we bumped around the area, Mike worked a speed jig and got bit. He worked the fish to the boat and we were surprised to see a Horse Eye Jack.
We released the fish and continued working the area. The downrigger goes off and little Mike works the fish but grows tired quickly and Shane takes over to land this "Snaggletooth".
OK… we put the d/rigger down again and it keeps getting tapped by these "Caribbean Spotted Mackerel". The boys are having a ball now catching these big 'Cudas! The line goes off and this is a better fish. Shane is working the fish when Devon suddenly spots a big school of Permit, well below the boat. While Shane is pressuring his fish, Devon readies a jig. Wow, it's a nice sized 'Cuda for a young 10 year old boy! Good job!
We release the toothy one and turn our gazes for the "rubber lips". As I begin to make my way back to where we saw them, Mike tells me they had enough. His wife is not feeling well. Really? OK… put 'em away Devon, we're done for the day. Although Mike pulled the plug only a few minutes before actual quitting time, we were ready to stay a while and give the Permit a shot. Oh well, there is always another day, God willing! I turned the bow west and throttled up. As we ran the creek between the islands I spotted a dead turtle. What happened to him? I banged a U-turn to investigate. As I approached we could see that this turtle was a good 36 - 40" across the shell and it's death was conspicuously apparent. He ran into a Tiger shark that was looking for a turtle dinner!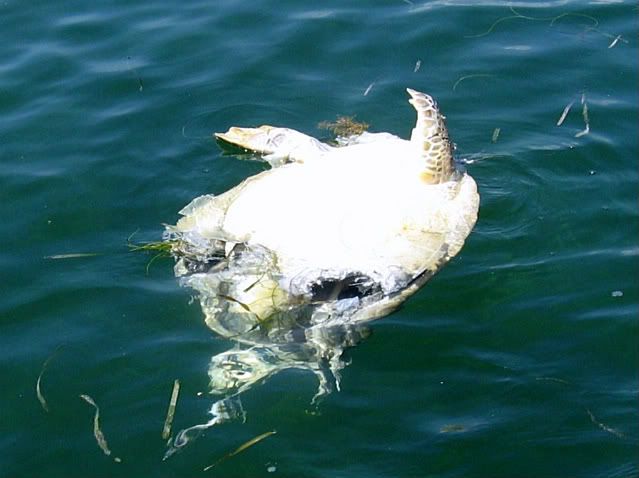 The raw power and bite pressure from those sharks must be incredible. The bite was completely through both sides of the shell and everything in between. This turtle was done in with 2 massive bites and the only remains were his hind legs. Take a good look at the size of those bites!
I don't know about you, but I sure wouldn't want to bump into that critter while in the water!
Capt. Jim
The BEAST
305-233-9996
beastcharters@aol.com
www.beastcharters.com