Friday night we took out Paul, Dave, Ping, and Trollin' Tom, my friend and Paul's brother-in-law. Paul had heard Tom speak of the Cubera fishing we do, so they just had to try it. We met up at the usual time and loaded everything onboard. El Nasty was on the agenda, for sure, this evening.
We untied The BEAST and headed out to collect baits. We began gathering the crickets and when we had 12 good, legal bugs, we made our way out to do some Yellowtail fishing. We arrived at the spot, dropped the hook, and started the chum slick while Devon readied the rods. A short while into it and we had some fish biting and a lot of Ballyhoo at the chum net. Devon caught a few of the 'hoos and tossed them into the well. The down rod got thumped and Tom grabs the rod and works up a very large "Homer" (Nurse Shark). Devon dispatched the shark quickly and reset the down rod. We saw the Bally scattering in the chum slick so Devon pinned a live 'hoo to a rod and pitched it out. Gulp! Fish on! Paul takes the rod and after a few decent runs and some muscle, a very respectable 20 pound Kingfish comes to the boat.
The guys caught a Bonito, a few Triggerfish, and some good Yellowtail as we passed the time. As twilight fell, they picked off a few Yellowtail that were almost in the "flag" category. We pulled up the chum as the darkness engulfed the sky. It was time to head out.
I powered up and made way for Cubera country. We arrived to find smoking current to the north. The water was ripping at over 3 knots and the winds were puffing at 12-15 knots on our beam. OK… Devon and I have our work cut out for us. We look at each other… It is what it is… Let's get'r done! There were 2 other boats out there trying their luck as well. The evening started out very slow. The drifts seemed to change every 15 minutes and Devon worked hard to keep the baits in proper position. We changed up a bit and dropped the secondary rod with a fin fish. BAM! Ping jumps on it and fights this muscle bound fish. As it comes to the light we see it is 40 pounds of "Night Donkey" (AJ).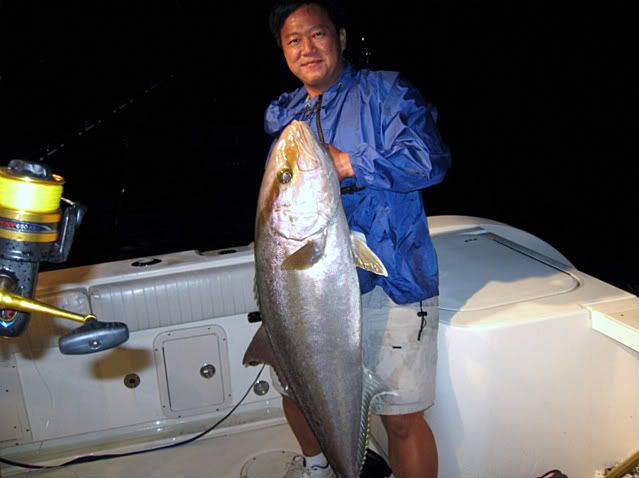 Well that worked for some action but not for our target species. Time is passing and BADA BING! Get on it Dave! He climbs on the rod and works the fish up to the boat. Now that's what we came for, a pretty 20 pound Cubera comes over the side.
The bite is on! We missed one or two good bites and then on the next drift we hang up both rods. Devon and I both hustle to replace the terminal tackle on the rods. I had a feeling this was going to be a short bite. KABOOM! Paul gets the nod and is into his first Cubera. He works the fish to boatside. Devon wields another small fish, by our Cubera standards, over the rail. It pulled the scales down to 25 pounds.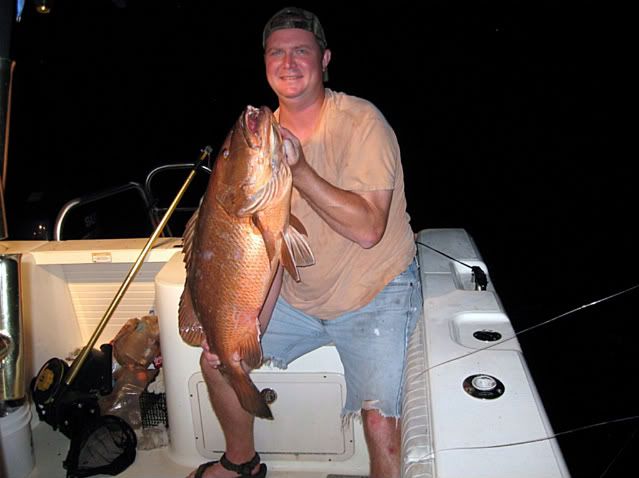 Just as quick as the bite turned on, it turned off. Wow, that was a fast and furious 45 minutes! We worked for another 90 minutes or so but the fish had lockjaw and the sonar marks were disappearing. I suggested making a run to another spot and give it one more drop before we packed it up for the night. Everyone was in agreement.
Arriving in that area we found the conditions much better but the sonar was marking a ton of bait and not very many big fish. OK, one drop and we're gone. I line up the drift and everything is going well. The rod tip twitches twice and then the tip moves quickly toward the water. There he is! Ping takes his place and this is a nice one. He tries his best to slowly maneuver this fish to the surface and 30 seconds later, the fish shakes the hook. Crap!
This night was a done deal. As usual the ride back home, with tired anglers, is very quiet! We went 2 for 5 on our targets and some additional good catches. We braved some adverse conditions and a few rain showers. Good job, guys!
Saturday we hooked up with Dave Irving and his mates, Ian and Rob. Dave is the mad Englishman who caught a Cubera on a speed jig with us 2 seasons ago. We shoved off at 3 PM and did our usual routine of collecting baits. This time instead of speed jigging while waiting for darkness, they wanted to catch some Yellowtail. We anchored up and began chumming in a fairly strong current. The 'Tails weren't so obliging but the down rod did manage to catch a pretty little 25" Black grouper. Although he was legal to keep, we all agreed to vent & release this fish to grow some more. The Yellowtail we did catch were once again, some Fatties.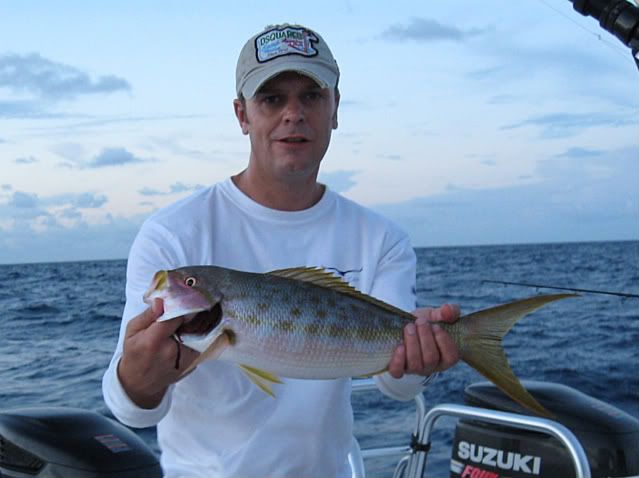 Devon and I were anticipating another night like last night with tough fishing ahead of us. Strong current on the reef edge and the wind is blowing 15 from the East with solid 3+' seas. As the dark side drew down on us we made our way out to Nastyville. Wow! Saturday night and not another boat in sight. Are you kidding me? We have Cubera country all to ourselves. Other than the 3-4' sea, the current is a very fishable 1.5 knots. This is doable! The fish are marking good and the first bait goes down. Nothing. This isn't unusual because it sometimes takes several attempts for me to fine tune the drift. We're working hard at it and nothing is happening but we had already anticipated a late bite again. Drift after drift and all we had so far were a couple of "almost" bites that turned out to be bottom hang ups. Devon had his "It's going to happen" hat on. KATHUMP! The bite turned on and the rod bent over. Ian got on the fish and manhandled a smaller 20 pound fish to the boat. Nice! We boxed this fish because they wanted to keep one smaller fish for the table.
WHOMP! Missed it! The bug came up minus the front end of his carapace. BOOM! Hooked up! Rob got after this one and judging by the pull, it isn't a small one. He cranks on the reel and the fish pulls harder, After several hard fought minutes the fish comes to the light and Devon brings it aboard. There ya go, Mate! Now that's a "Nasty" fish. It scaled out at 42 pounds. We vented the fish and slipped it over the side to continue on with its intended purpose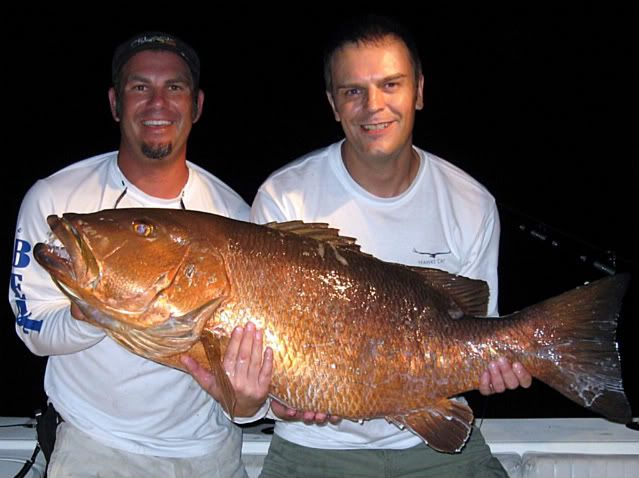 For 45 minutes we had a bite on almost every drift and then it shut down. C'mon, we were just starting to have fun! By now, Ian and Rob have lost their sea keeping abilities and were laying down. The only time we would see them is when they were hanging over the side calling down to some fish they must've named "Ralph"!
I made a few calculated moves to keep us in the fish longer. Devon made a few major adjustments on his end in the pit. 20 minutes later a ferocious bite started. Every drift resulted in a bite as long as we stayed on our pattern. The only problem was that these must have been smaller fish as the baits were coming back with fang punctures in the carapace and a half dozen legs missing. Dave was hanging in there, confident he was going to get one. Another swing and a miss! There's a bite! Crank down on him Dave! HOOK UP! We must've sifted through the leg nippers and found a real one. Dave puts the muscle on the fish and it comes to the top. The fish won't give up and it takes a few minutes on the leader to quiet it down. We pull the fish over the side to take a quick pic and get the hooks out. This fish is well into the mid 30 range. Yup… 35 pounds!
Devon vented the fish and put it in the water for a release. Not this time. We're not sure why but this fish was a goner. We gave it 100% effort, righting the fish and staying with it for 5 minutes. It isn't going to make it. With only 1 fish in the box we decided we had to keep this one too! We had no choice, either keep it, or let it float away dead and that would be a total waste!.
The BEAST has a 2 fish limit in the box and a good release. Each guy has a Cubera notch on their belt, out of the 7 or 8 bites. It's getting late now and little to gain at this point, but repetition. The 3 mates from the UK decided to toss in the towel instead of injuring another fish just for fun. Good decision and pretty work, Mates!
I pointed the bow toward the West and throttled up. Our 3 Brit friends were "out for the count" on the ride home.
Capt. Jim
The BEAST
305-233-9996
beastcharters@aol.com
www.beastcharters.com