I have been extremely busy the last few weeks and finding time to sit down to write my fishing reports has been next to impossible.
The month of May was pretty weird to say the least. So far, June is not doing much better either. We have run the gauntlet in regards to the weather. We've had record rainfall to bluebird skies, gale force winds to no breeze, strong current to barely moving current, and big rough seas to slick calm water. Each of the extremes requires a bag of tricks to pull off a good trip.
Fred booked a day with us and brought his friends, Dave and Dave. When they arrived, we loaded their gear and cast off the lines. Our first stop as usual was to get some Hardtails for bait. We hit 2 different spots to collect the baits I wanted, and then put the throttles to cruise to try and find some worms (Ballyhoo). The seas were calm that morning and the hoo's were in short supply. We hit 3 different patches before we managed to pull up just a few. Digging up worms was taking more time than I care to think about. When we finally had a dozen, we bagged this bait process and went out with what we had.
The short run offshore was uneventful in the light seas, Devon set out a 3 up and 1 down spread. Time was ticking by and we hadn't even gotten a look. It was time to change up and hit the wrecks. I headed for the "grunt & sweat" wreck to get a little action going for the guys. The drift was fair and consistent and the bite was pretty good. We dropped a live bait and worked a speed jig on the first pass. Although we did get a hit on the jig, I was just off the mark a bit. The line went limp and when we retrieved the jig, it was missing the hook. It was obviously had a visit from a toothy critter. The second pass produced a hang up in the wreck and another whack on the speed jig. Dave jumped on the rod. This was a good fish and they are tough fighters on a spinning rod. Dave gave out about half way through the fight and passed the rod to the other Dave. He finished the job and a nice AJ hit the deck.
We weighed the fish (39#) and took another picture with the first Dave too. I asked the guys if they wanted to keep it for dinner or for smoking and they said yes. Into the fish box it goes. We regrouped and returned to my drift point for another go round.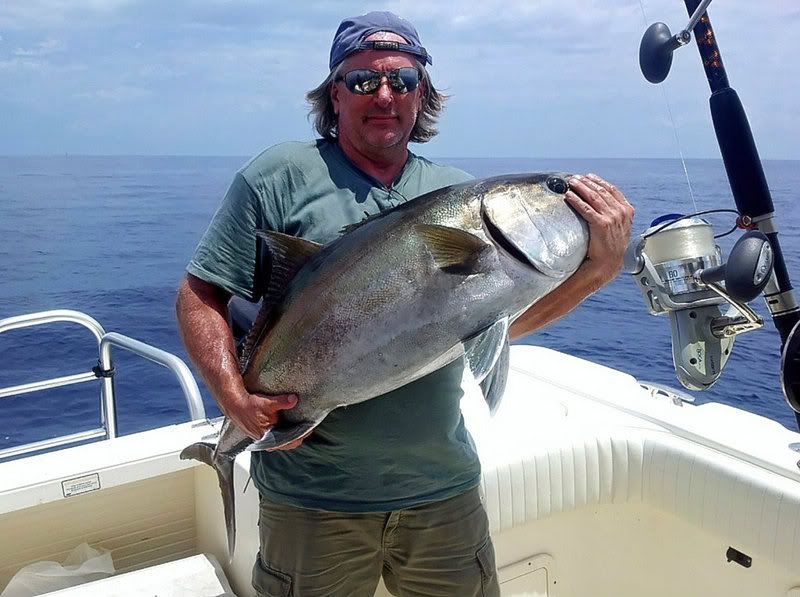 The winds had increased ever so slightly as we made the next drift. This was just enough to throw off my drift line, so I had to readjust once again. The 3rd drift was on the money and most of the fish were located downstream of the wreck. Wait, wait, I'm marking good fish now! Ka Boom! The big Hardtail on the live rod gets hammered and Big Fred takes the rod. It's another AJ with big shoulders for sure. Fred is no small man, standing 6' 9" and weighing over 300 pounds. He might have had a couple of shaky moments with this fish, but he did a good job of manhandling it to the surface. We weighed the fish in at 41 pound and loaded it into the box with the other.
I asked them if they wanted to continue, but they opted to move on to something else. I quickly decided to head to a favorite spot for some large Mutton Snapper. This spot should produce real well with the conditions and baits that we have. As I was getting closer I saw a Sportfish boat, which was probably fishing the same place. As I approached the area to join in on the drift, I realized that he had actually anchored right dead on top of the spot. OK… I play fair and he was there first. Let's go try for some Permit since I had made a quick stop at F&F bait early that morning to pick up some crabs.
It took me about 15 minutes to make the run and another 30 minutes or so to locate the fish and figure out their depth and direction of movement in that area. The Sportfish (name withheld) from the Mutton spot, came steaming in and dropped anchor right dead on the spot and started bottom fishing. Unknowingly, they had actually helped me by setting up close to my target species. His permanent position made it much easier for me to set up my drops. We made a drop & drift with 2 crabs. Nothing! We dropped and dropped again and then suddenly, the bite turned on. Bam! Fish on! This fight only lasted about 3 minutes before he pulled the hook. As I motored back toward our spot, I noticed that now the Sportfish had put out a kite with 2 baits suspended off of it, on the very side I was trying to work. Are you serious? I'm not going to be intimidated! I refused to give it up and continued working crabs in the area, often within 25' of his kite baits. Bada Bing! Hooked up! Dave was mesmerized by the power of these fish, rivaling the fight of an AJ that is 2-3 times their size. He worked the fish hard and after about 10 minutes it was at boat side. Devon lifted a nice little 12 # Permit aboard. We revived the fish and sent him back to his buddies.
It seemed like every other drift resulted in a bite. We missed another bite and then…Ka POW! There he is! The guys were enjoying this as another fish is tugging on their string. This one gives us a bit more of a tussle but gives it up in the same ten minutes as the first fish. Devon eases this 18 pounder over the gunwale. We hurriedly took some pictures and released this fish to go back and do whatever it is that a Permit does.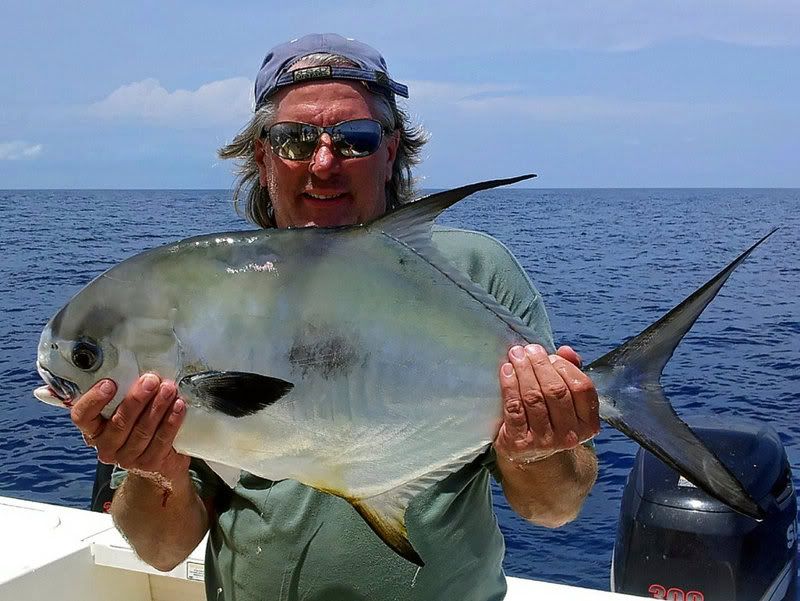 We made several more drops and had a few more pickups but no more hook ups. It appeared that the bite had turned off as certainly as it had turned on. I told Devon to toss the last crab over as a peace offering to the school for allowing us to play with them. The guys wanted to see a Barracuda so we made a few laps around the area and picked up a small 'Cuda for them. That's enough of this… let's move on.
I made another short run north to finish our last couple hours trying to pick up a Sailfish, Dolphin or Blackfin. We also dropped one down for a Kingfish. Devon kept good baits on the line but the weather was just too calm to work the top. We saw a second free jumper Sail about 15 minutes before quitting time. This gave us hope so I worked the area well past quitting time. There were a few "swing and a miss" strikes by Kingfish and Fred did manage to catch a last minute Bonito of about 10 pounds.
We packed it in and looked toward the west as the Suzuki 300's came to life on the journey home.
Cubera season is only 60 days away. We are accepting reservations for this 2012 season now. If catching a big, "bucket list" snapper is on your agenda, drop us an email or give me a call to set up your date.
Capt. Jim
The BEAST
305-233-9996
beastcharters@aol.com
www.beastcharters.com