Jorge Marquez seems to love going Cubera fishing with Devon and I. Matter of fact, he booked his first trip with us in '08 and the very first fish that night was a 76 ¼ pounder. I don't know who was hooked deeper, the fish or Jorge! Ever since that night, he books two trips with us every season. Since we had to cancel Saturday night due to residual effects from H'cane Irene, we were determined to get this trip in on Tuesday. We weren't going to let a chance of rain and/or the moon jellies stop us.
Jorge arrived at the dock on time. He was alone. The rest of the crew had bagged out on him but he focused on the "Nasty's" even if he had to do it by himself. We hung out at the dock for about 30 minutes while the last of the afternoon rains passed through. We turned out The BEAST and made our way to catch a few live baits. One stop and we had a half dozen or so Hardtails and we blasted off to the reef to get some of those delicious "crickets". We spent less than an hour collecting bugs and we had plenty in the live well.
We still had about 2 hours to kill before darkness settled in. Jorge was so psyched up that he didn't want to catch Yellowtail or warm up on big AJ's. We just played around with the speed jigs at a local wreck for a little while but only caught a couple of humongous sized, full grown, Hardtails. OK… enough of that. We decided to make the run to our final destination and try a few drops before dark.
Arriving at the spot, I find the drift was slow, the winds were light, and the seas were about 1 foot. There was nothing much marking on the sonar but, I told Devon to make a drop anyway. Devon sent down a small Runner and Jorge got hung on the bottom, losing the terminal rig and weight. I set up again and Devon fired another small Hardtail down. Nothing down there but it did get bitten in two on the way back up. Alright Bud, we don't want Barracuda messing with us, so send a bug down on the next drop. About 10 minutes until the sun slid below the horizon and we sent the first bait down. Oops… that's bottom again Jorge! We were hung up and lost the whole rig. The second drop went down as the sun is only a sliver on the horizon. Dang! Hung up again! We lost this rig too. OK… let's regroup.
As I made my way around the area I was starting to see a few fish marking on the sonar. This drop went to the bottom and I was giving Jorge a refresher course on how to "feel" the line. As I turned to move back to the helm, I felt that initial bite. Whoa, there's a fish! The fish took the bait and I made a few cranks on the reel and the rod began to double over, then popped right back up. I quickly made an adjustment and the fish came back on the bait and nailed it. Three turns of the handle and it was fish on at 8:18. Jorge was very familiar with the drill on how to get these big snapper to the boat. He did a good job and we were on the boards with a nice 36" fish in the mid 20# range.
The excitement died down and I motored up to make another drift. I was marking fish but not where I expected them to be. I made a major adjustment to my drift and Devon sent another bug to the bottom. The drift is still slow and I reach the point where I had detected them. Bam! Fish on, Bro! Jorge jumps on the rod and this fish has a little bit more oomph to it. The fight was as expected and we boated this not quite 30 pound fish for a photo op as well. Now it's only 8:42 and we are already 2 for 2.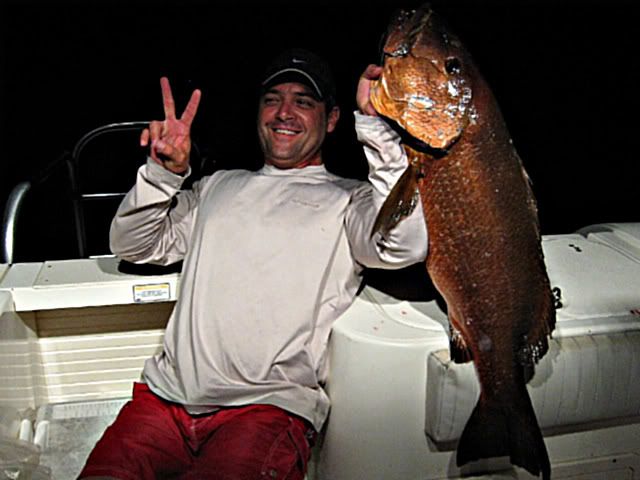 On the following drifts we had changing winds, current fluctuations, and several drift adjustments were needed. Despite all that, I managed to stay on the fish. Bada Bing! Hooked up and lost a better fish at 8:55. At 9:05 Jorge hooked up a real nice fish and lost that one too! Once again at 9:17 and Jorge is on a big'un this time. Oops… he lost that one too. Don't sweat it Jorge, the bite is on and we have plenty of bait. Boom! The bait gets hammered at 9:27 and this one is a bruiser. Jorge is gaining and is just passed the halfway mark when the rod tip snaps to attention. What?
Several more drifts went by and the bite had obviously shut off like someone flipped a light switch. They were there but very complacent. We tried to get Jorge to adjust his delivery to try and finesse these fish into biting. It wasn't happening because he, unlike the fish, couldn't stop using the "feed mode" technique. He did manage to get one more bite but it sucked his bait off the hooks only bending the rod about a foot. The clouds were beginning to grow over the edges of the mainland and cloud to cloud lightning was beginning to put on a show. We continued on until 11:00 PM and Jorge was ready to head in. I offered to do a couple more drifts but he declined.
We packed everything up and I turned the bow toward the barn. We were 2 for 7. Losing the other 5 bites was a bit frustrating for Jorge, but hey… that's fishing. We reached the marina where the bottom fell out of a cloud and it came down on us. We all had a good time and Jorge even went home with a bonus… a fist full of Lobster! You can't beat these Cubera trips. If you don't use all of your bait, you simply melt some butter and eat them!
Capt. Jim
The BEAST
305-233-9996
beastcharters@aol.com
www.beastcharters.com