This winter/spring transition has been a bit out of the ordinary. We've had weird weather and fish patterns. Fishing for our preferred bait has been our biggest struggle but we always seem to get 'r done.
Eric and his son Jason met us at the dock for a full day trip and they wanted to get Jason his first Sailfish. We loaded them up and headed for the bait patches. We picked up the Hardtails easily and headed for the worm beds. Relying on our past trips we headed for the best patch and it worked out for us. They were a bit finicky but we got them. After storing our bait gear away I headed The BEAST for the blue water.
I pulled back on the throttles and Devon started putting out the spread. We had fished for very short time when we had a swing and a miss and then a single. The fish turned out to be a Bonito a.k.a. Bonehead. Shortly after putting the lines back out...Bada Bing! The long rigger goes off and a Snooter takes to the air. Jason worked the fish to the boat in 40 minutes or so, and we had a good catch. Eric was happy that Jason had just boated his first Sailfish.
We reset and things peaked quickly when when a nice pair of chubby Mahi hit the spread. Eric and Jason jumped on the rods. Jason lost his fish and we boated the smaller fish that Eric had on. Jason was not happy that he had lost his fish. We reset quickly and 10 minutes later we were on another nice pair of small gaffer Dolphin. Eric had the smaller Cow and Jason had a Bull of about 15-20#'s. Everything was going too good when suddenly, as Devon was attempting his gaff shot, the Bull took a quick turn and ran right under the motor cutting himself loose on the prop. Visibly upset that we lost this nice Bull, Jason went forward and had to regroup.
We reloaded our baits and began fishing again. Things had calmed down and we went without a bite for about an hour or so. I pulled the plug and headed for a wreck to get Jason on some fish to get his mind off of the 2 lost Dolphin. Jason was back in the game on the very first Amberjack.
They had a great time working the wreck and catching one fish after another. The highlight of this escapade happened when Jason hooked up a big shark. After a long grind on the rod and reel, he managed to bring it up for a photo. The shark was a good 'un at an estimated 8' and well over 200 pounds.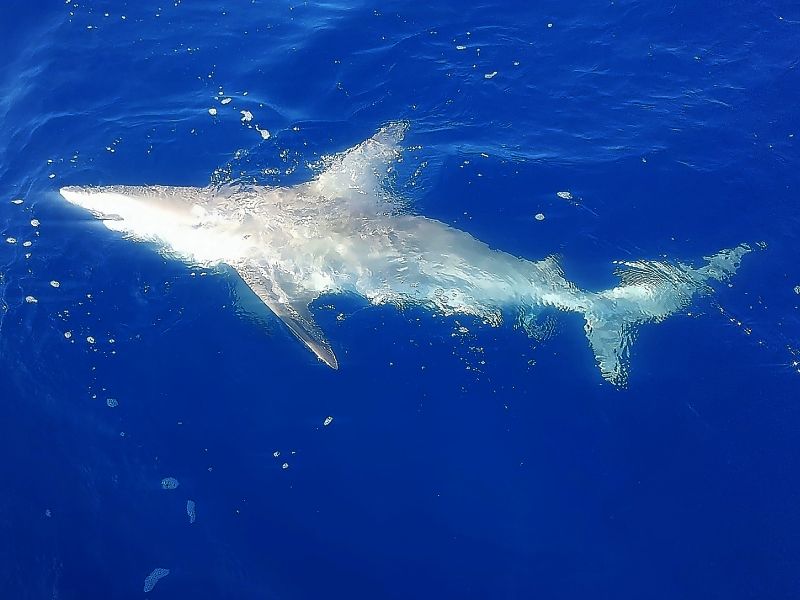 We ended the wreck fishing on that note and went back to trying to get him another Mahi. The fishing went stale and the remainder of the afternoon was uneventful except for catching a small Kingfish. We called it a day and Jason was happy, forgetting all about those 2 lost Mahi. He spent the ride home talking about the big Jacks and that monster shark.
Dan McGillicuddy came solo on our next trip. We exchanged introductions and unleashed The BEAST. Dan wanted a Sailfish to scratch off his bucket list. The bait was somewhat easier this day. We caught plenty of Hardtails quickly. We did manage to get enough worms to fish for the day, even though we had to hit a couple of spots and fight against a bad boat lay with tide running against the wind.
We blasted out to the blue water and put out our usual bait spread. Once again we hadn't been fishing long when we had a tremendous hit on the right rigger. It was a nice Bull Dolphin but the fish didn't hook up. Seconds later the right flat line gets crashed and we are hooked up. This was the Cow, the mate to the Bull we just missed. This was another good fish! Dan worked the fish hard and after 15-20 minutes on the 20# spin tackle, Devon sunk the metal into Dan's fish. Wow, this Cow tipped our scales at 30 pounds. Good fish! Imagine how big that Bull must've been!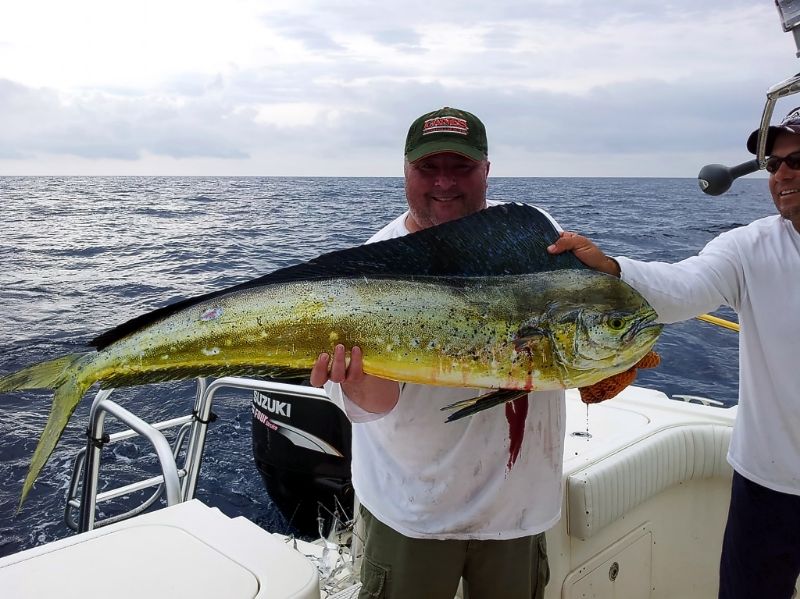 We reloaded our guns and worked the zone. The fishing was not fast and furious but it was steady. The next hook up turned out to be a very nice Blackfin Tuna. We'll take that any day. They are strong fish, in any size on light tackle, and excellent table fare.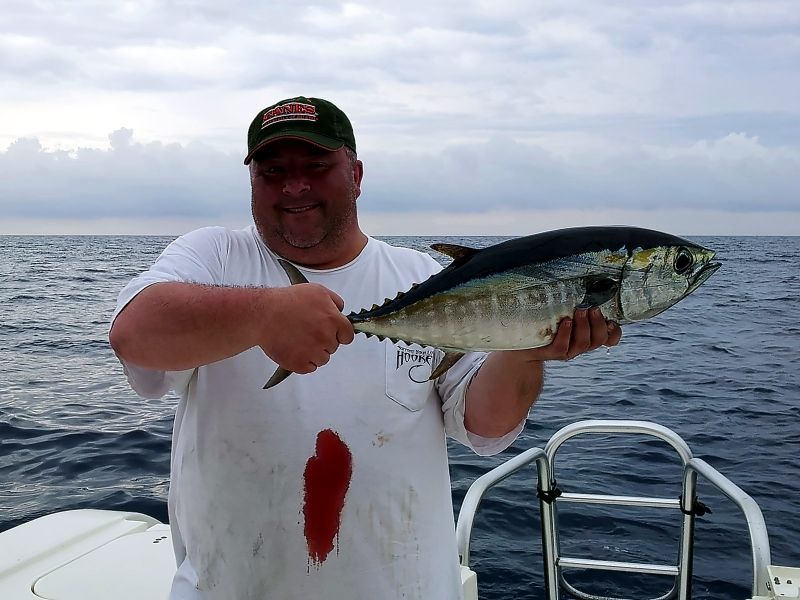 After a while with no bites, we decided to hit the wrecks to get Dan busy again. We made many drops and literally wore Dan out. He caught several AJ's in the mid 30# range and a large Barracuda.
We left the wrecks and headed north for another attempt to get Dan that Sailfish. Things were going along very slowly, except the time. We managed to pick up a very large Bonehead and lost a couple of BIG fish (Sharks?) on the down rod. Dan made a comment that he had a great day even if he doesn't get his Sailfish. I reminded him that the "Fat Lady" hasn't sung yet. Time was running out quickly when Devon noticed that the Ballyhoo on the long left rigger was skipping around. There he is! Fish on! Get 'em, Dan! Dan jumped on the rod and get 'em he did. The fish worked Dan's tired arms and it worked me at the helm as well. We were determined. About 35 minutes in and we had the fish at the boat and Devon yelled his traditional "Yeah!" as he grabbed the bill. We pulled Dan's fish aboard for a quick picture.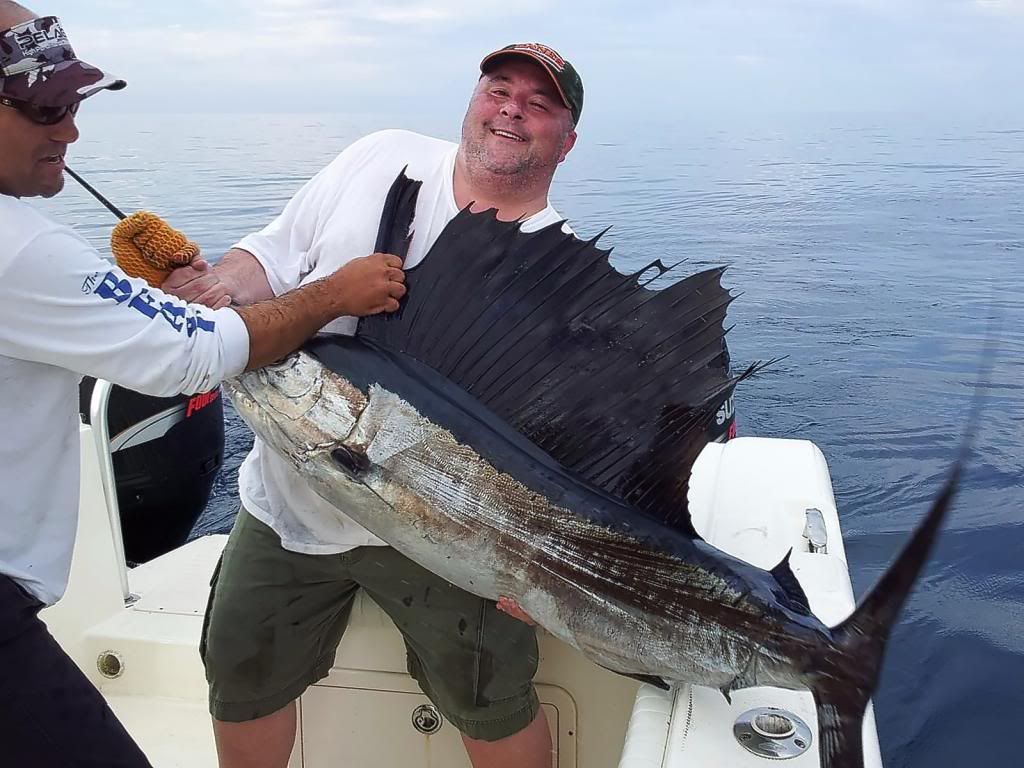 This one is a wrap! A job well done! We buttoned up The BEAST and made way toward the west, heading for home. Dan kept saying that his day was awesome and he was totally satisfied even before we hooked up his Sail. Catching his Sailfish was the just the cream cheese icing on the carrot cake. Hey... Catching a Sailfish for Dan was our mission and Devon and I work tirelessly to complete our mission. All of us were smiling at the end of this day!
The next trip out was a ¾ day, "Bachelorette Party", for the bride to be Jessica and her bridesmaids, Megan and Loann. We met the girls at the dock and shoved off for Jessica's adventure and what an adventure it was. I asked why they chose a fishing trip with us for her Bachelorette party and Jessica informed me that she wanted to catch a bigger fish than her fiancé had caught on his many trips to S. Florida. She really wanted a Sailfish. Ok... Let's see what happens!
We spent some extra time catching bait and it's good we did. The Hardtails have been pretty easy but the Ballyhoo have been getting increasingly tougher to get. We had enough to go so we went out to the edge and began deploying our baits. Before we got our 3rd bait out, the left rigger gets hit and Jessica has her Sailfish on. Woohoo! Hold up. The fish spit the bait on the second jump. Dang! Devon reset the baits and in the next 20 minutes we got covered up by nice Dolphin.
The winds were blowing hard and the seas were 4-5 feet. This was pure chaos, a virtual Mahi fire drill gone wrong. We managed to catch several and then a decent 19 pound Cow finished off the barrage.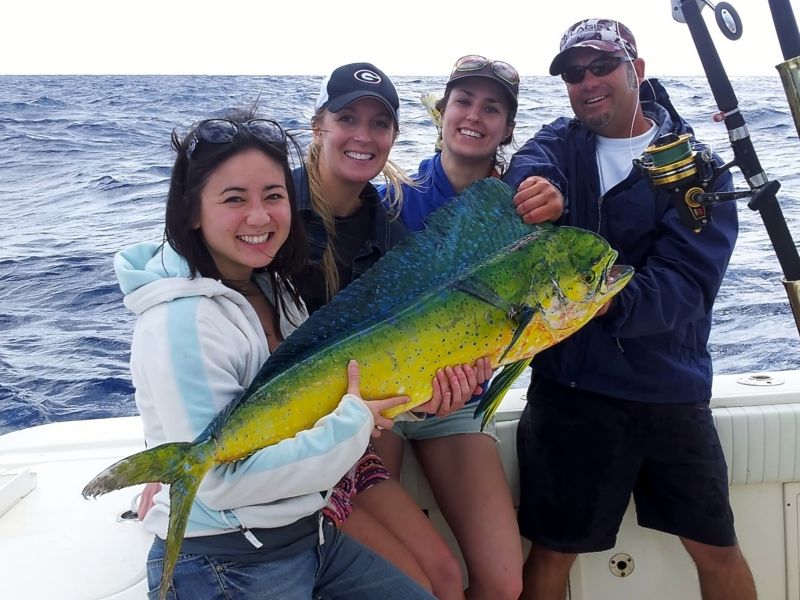 This day, although rougher than the ladies would've liked, was turning out to be catch-fest. We continued working in the zone and missed another strike on top and then hooked up again. We thought we might have had a very nice Blackfin on the line but it turned out to be a large Bonito.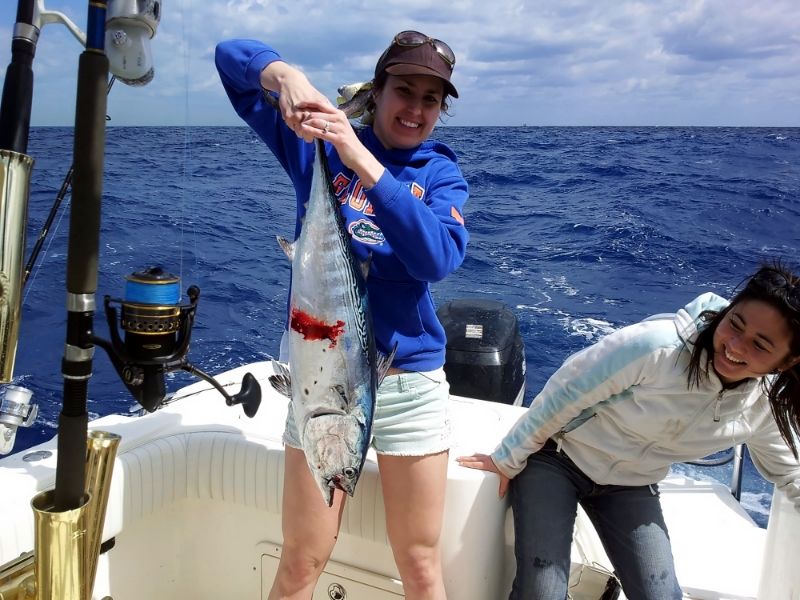 Another spread is out and we missed a 'Cuda bite on the down rod. A few minutes later and Jessica is once again hooked up to another decent Cow Dolphin. The fish fought valiantly but was no match for Jess. Devon put the steel to this nice 15# Cow and sent her to the fish box with her other cousins.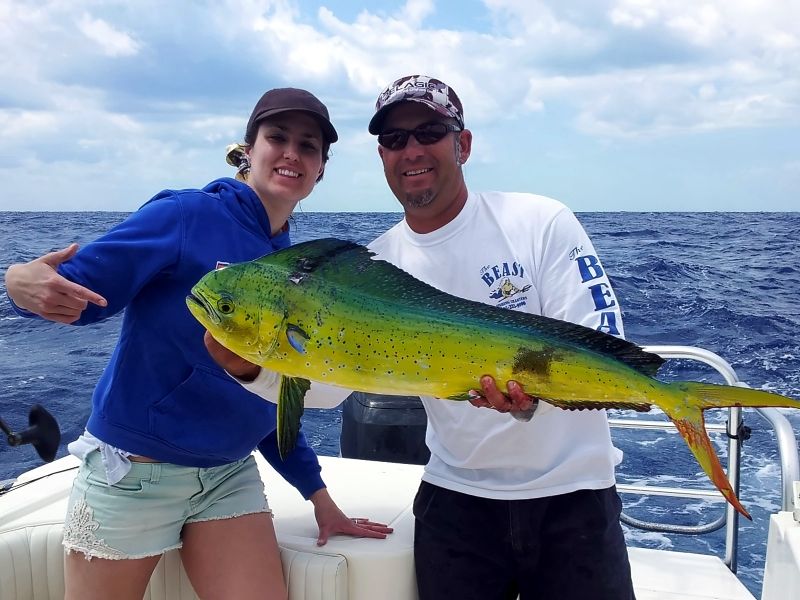 The baits are restrung and we are fishing again. The next strike was another shot at Jess' Sailfish. This fish was not be fooled as it spit the bait quickly. The girls were on their final leg and the seas were taking its toll on their stomachs. We still had another hour to fish but Jessica gave me the "word". Devon and I packed up and readied the boat for the ride in. The girls were bubbling about the day as Devon cleaned their catch and bagged them up for their ride home. Devon and I congratulated Jessica on her upcoming wedding. Hopefully, everyday of her marriage will be as exciting as her Bachelorette Party.
Capt. Jim
The BEAST
305-233-9996
beastcharters@aol.com
www.beastcharters.com